Water Contamination Widespread Across U.S.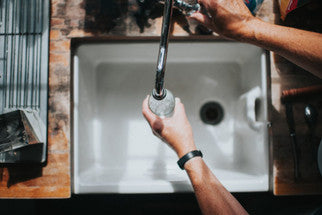 A database compiled by the Environmental Working Group and Northeastern University evaluates drinking water sources across the country.
MILLIONS OF AMERICANS may be exposed to contaminated drinking water systems that are dangerous for their health, an updated interactive map shows.
The map, a collaborative effort by Environmental Working Group, a nonprofit, nonpartisan organization, and Northeastern University's Social Science Environmental Health Research Institute, documents toxic fluorinated compounds known as PFAS at publicly known pollution sites across the U.S., including public water systems, military bases, military and civilian airports, industrial plants, dumps and firefighter training sites.
The researchers found at least 610 drinking water sources in 43 states contain potentially unsafe PFAS levels, and estimate that more than 19 million people are exposed to these man-made chemicals that have been linked to birth defects, increased risk of thyroid disease, infertility and reduced immune responses in children.
"The Environmental Protection Agency has utterly failed to address PFAS with the seriousness this crisis demands, leaving local communities and states to grapple with a complex problem rooted in the failure of the federal chemical regulatory system," said Ken Cook, president of Environmental Working Group, in a press release. "EPA must move swiftly to set a truly health-protective legal limit for all PFAS chemicals, requiring utilities to clean up contaminated water supplies."
Any detection of these chemicals were included in the interactive map, despite some of the levels being well below the Environmental Protection Agency's "non-binding health advisory" standard of 70 parts per trillion, said Bill Walker, editor-in-chief of the Environmental Working Group, via email.
Collection 2019
Sale 70% Off
Title for image