Fawning Over 'Fiji Water Girl' Ignores The Evils Of Bottled Water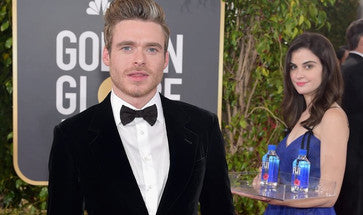 While the Internet fawned over Fiji Water Girl, one of the models hired to pass out bottled drinks and photobomb celebrities as they vogued on the red carpet at Sunday's Golden Globe Awards, it made very little noise about the evils of bottled water — and the Fiji Water brand in particular.
First, let's talk about how dumb and wasteful it is to transport bottled water halfway across the world. Fiji Water really does come from Fiji, a country in the South Pacific Ocean, which is far if you live in the United States.
"Fiji Water, really more than any other bottled water, travels a vast distance to get from Fiji to wherever it's consumed," Peter H. Gleick, co-founder and president emeritus of The Pacific Institute, told HuffPost. "It's shipped in cargo ships, and that's a very energy-intensive process."
Collection 2019
Sale 70% Off
Title for image