Yeti 1500x Power Station+Boulder 100 Briefcase Kit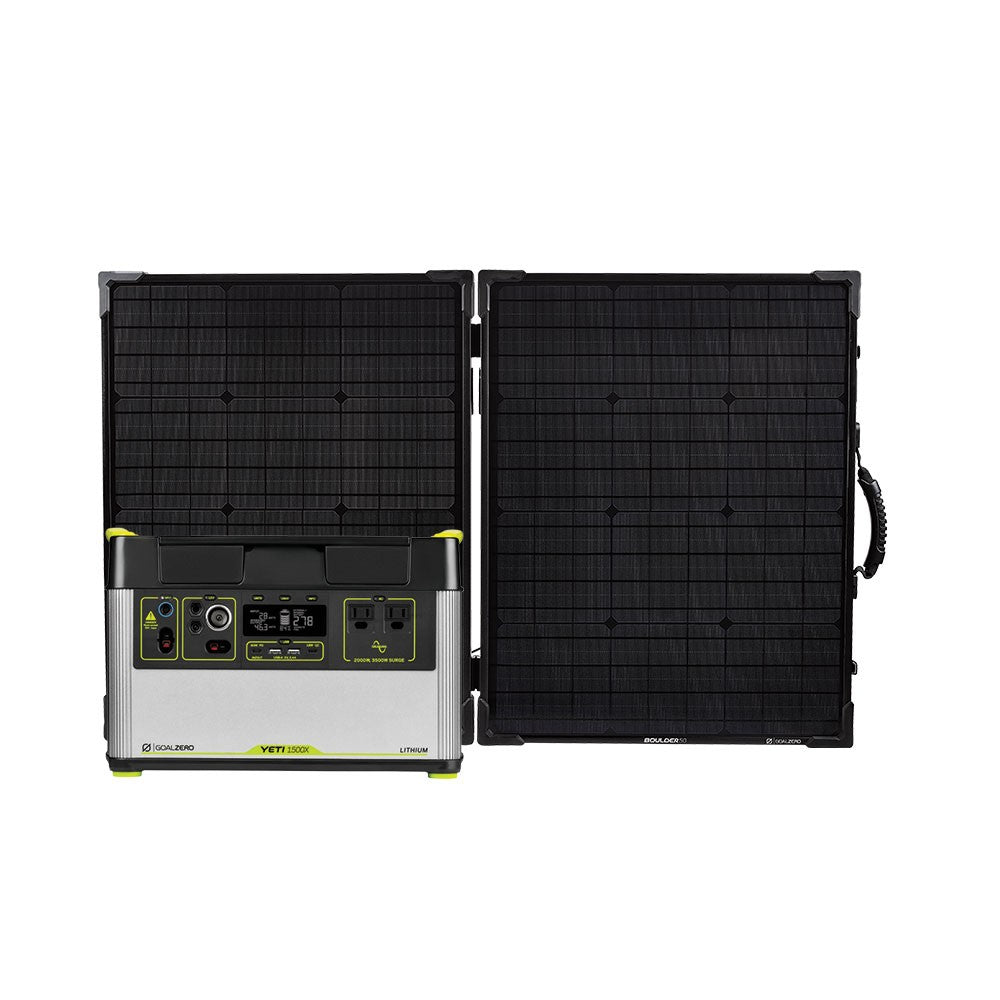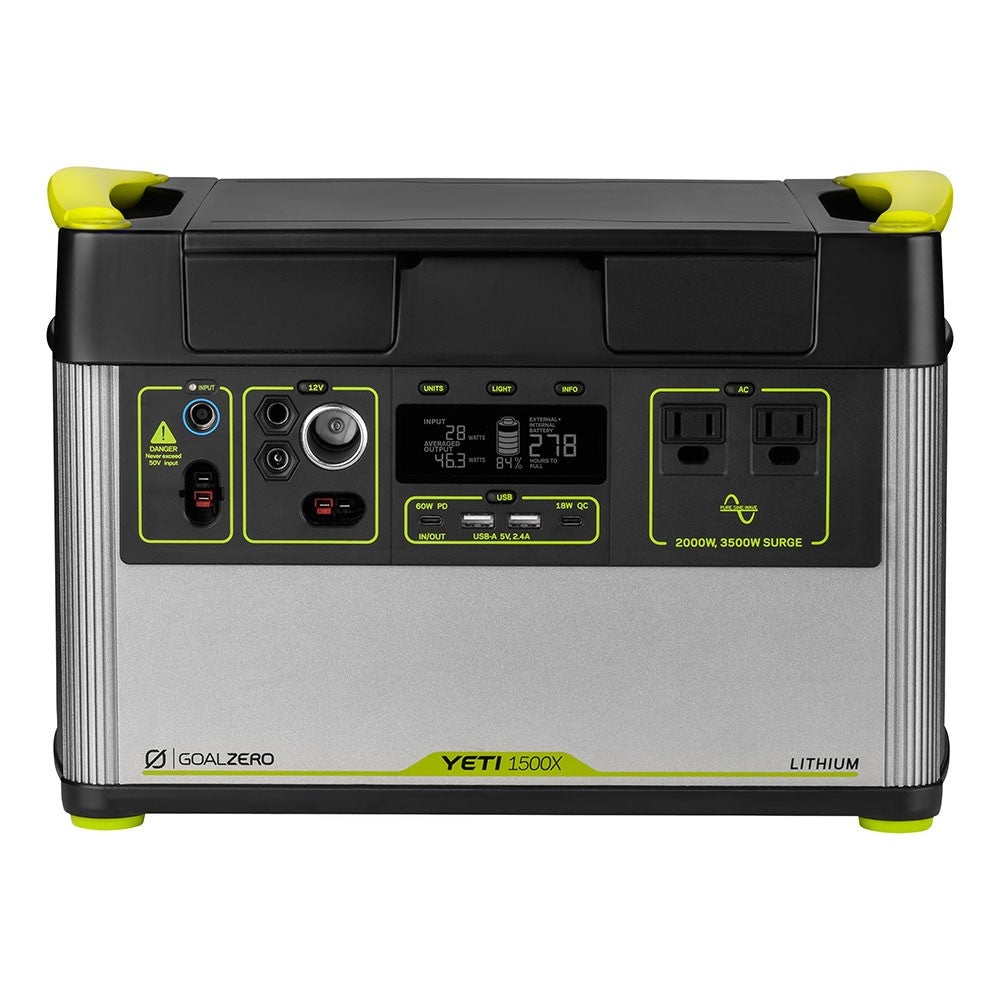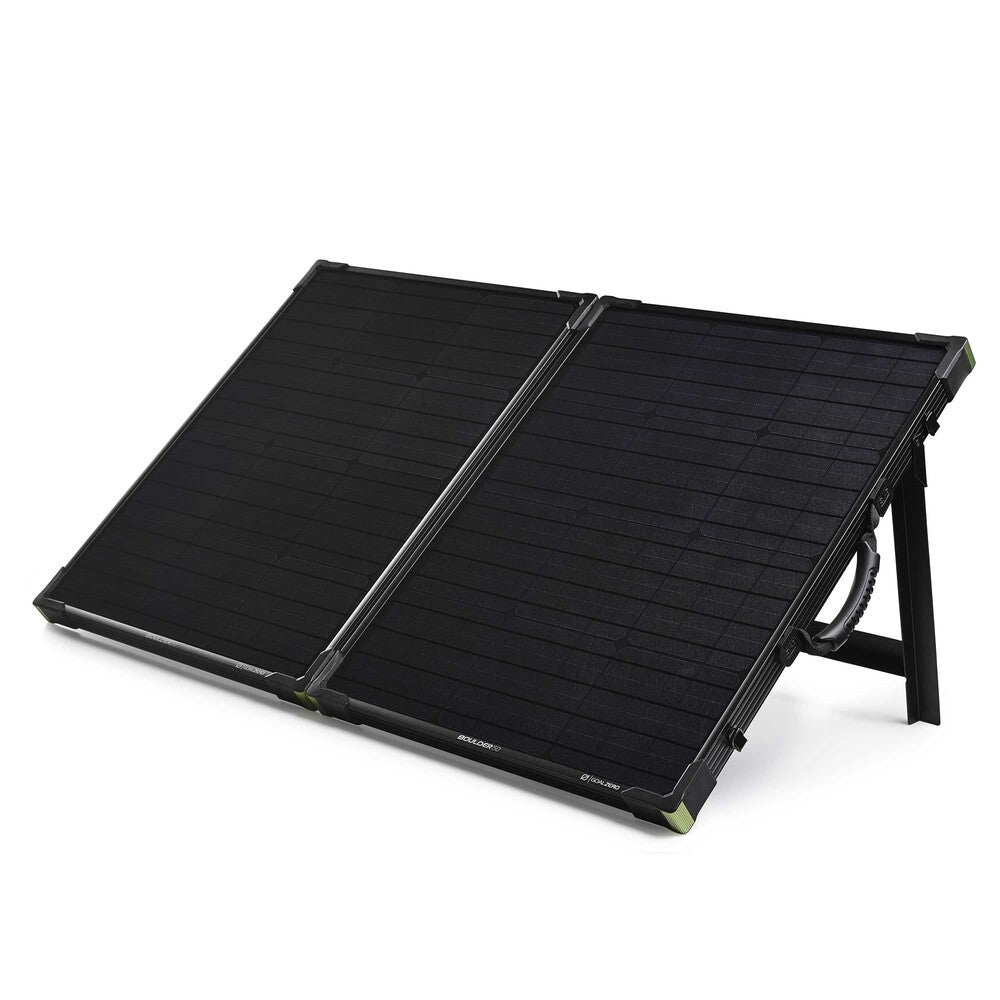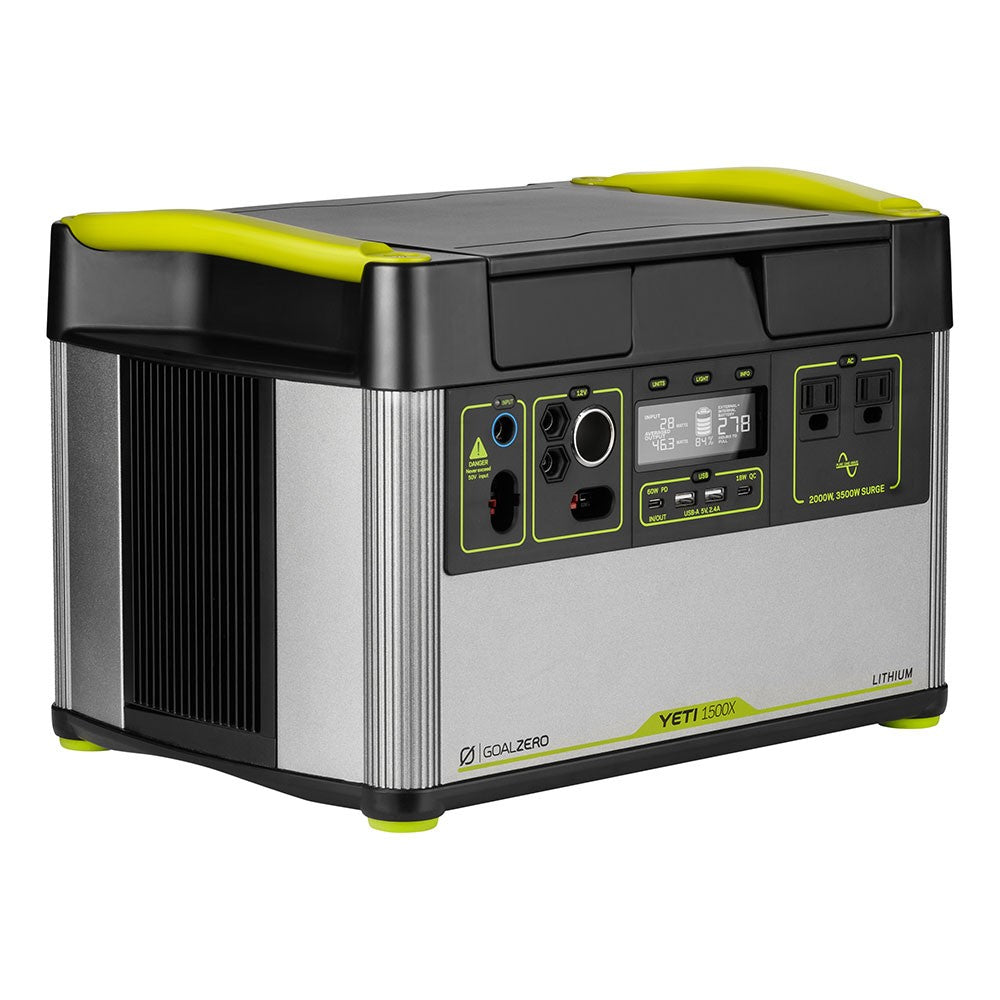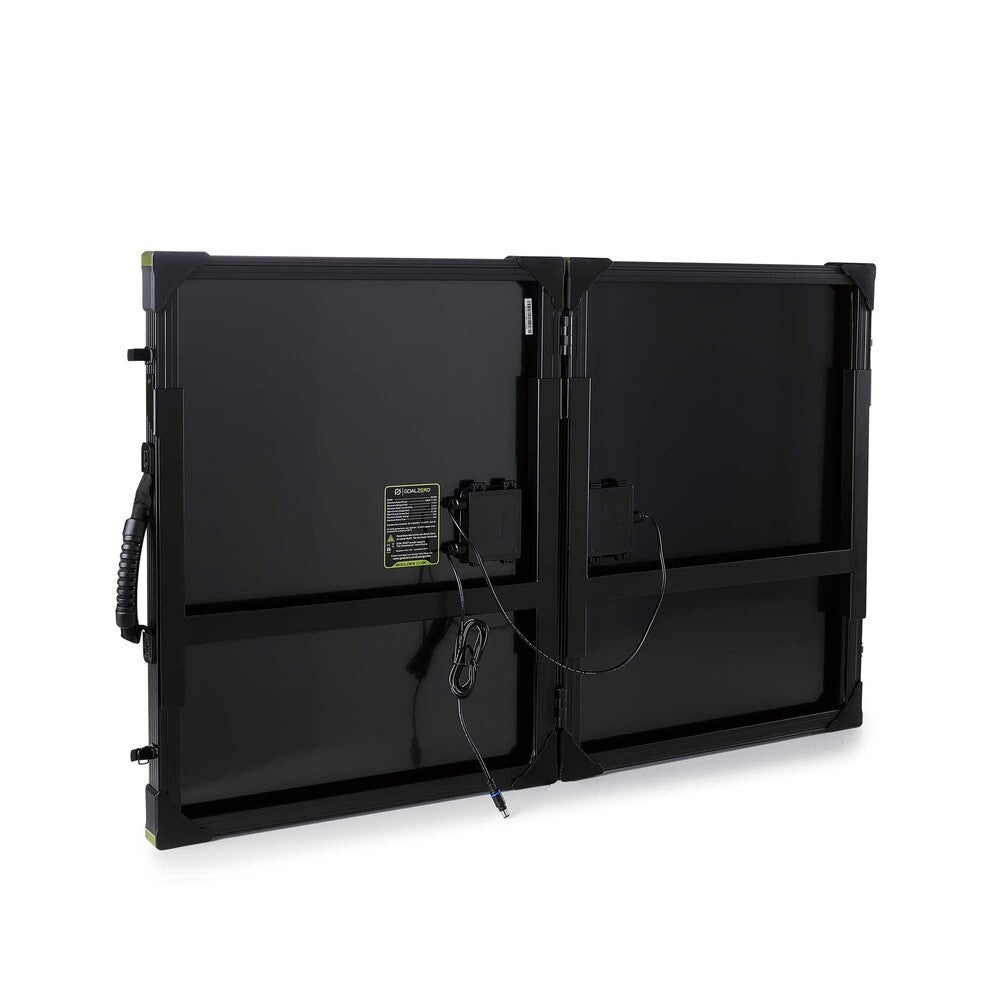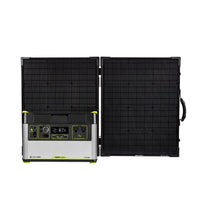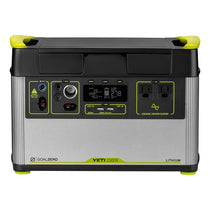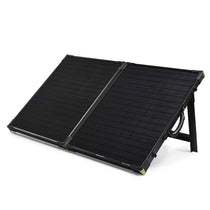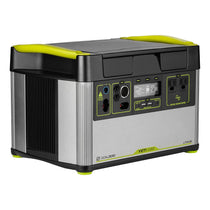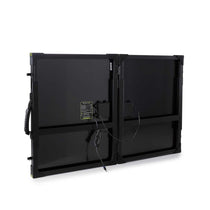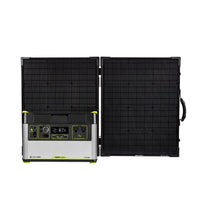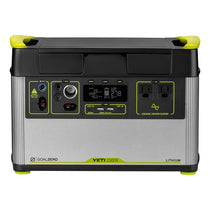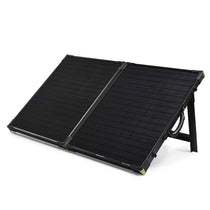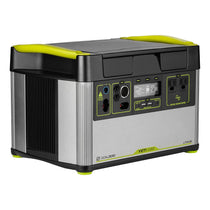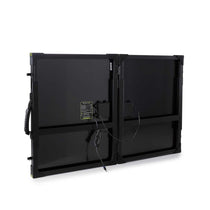 DESCRIPTION
Our best-selling large power station now comes with even more power and a bigger inverter to let you tackle any project, indoors or out. Run anything off the Yeti 1500X that you could from the wall outlet and enjoy an unlimited supply of power from the sun by pairing with the Boulder 100 Briefcase.
YETI 1500X HIGHLIGHTS
Goodbye Gas Generator. Hello Yeti X. With a lithium-ion battery at its core, the Goal Zero Yeti X equips you with safe, clean, portable power for camping, tailgating, off-grid events, workshops, and emergency home backup.
Take Your Wall Outlet Anywhere  Increased 2000W AC (3500W Surge) inverter allows you to run power-hungry devices and appliances with confidence. Our new industry-leading inverter can handle surges from power tools, medical devices, and home appliances, including full-size refrigerators.
Versatile Port Options Power a wide range of devices with seven different port options including fast-charging 60W USB-C Power Delivery, multiple USB-A ports, regulated 12V, and two 120V AC ports. 
Experience Unlimited Power Charge the Yeti 1500X from the sun with our portable solar panels while away from the grid and keep it topped off from a wall outlet when you're home. Integrated MPPT charge controller ensures you're getting the most efficient solar charge possible. 
Power in the Palm of Your Hand Monitor, control, and optimize your power usage from anywhere with Yeti App 3.0. Features remote control of power in/out, real-time power consumption notifications, and charging profiles to optimize your battery life. 
BOULDER 100 BRIEFCASE HIGHLIGHTS
100 total Watts - two 50 Watt panels (18-22V) chained together and connected by a hinge. 

Built with strong tempered glass and an aluminum frame with added corner protection. 

Included is a protective canvas bag for easy transport and carrying.
WHAT CAN THE YETI 1500X POWER?
Recharges
Smart Phone (12 Wh): 127
Tablet (30 Wh): 51
Laptop (50 Wh): 31
POV Camera (5 Wh): 303
DSLR Camera (18 Wh): 84
Head Lamp (5 Wh): 303

Hours of Runtime
Light-a-Life 350 (4.5 Wh): 337
Light Bulb (11 Wh): 138
CPAP (65 Wh): 24
TV (42" LED) (100 Wh): 15
Pellet Grill (60 Wh): 26
Microwave (1000 Wh): 2
Portable Fridge (25 Wh): 61
Mini Fridge(35 Wh): 44
Full Size Refrigerator (55 Wh): 28
Circular Saw (13 Amp) (1500 Wh): 1
CHARGE TIMES
AC Wall Charger

120W: 14 Hours

Solar

50W (Boulder/Nomad 50): 36-72 Hours

100W (Boulder/Nomad 100 (BC)): 18-36 Hours

200W (Boulder (BC)): 9-18 Hours

400W (Boulder 200 X 2): 4-8 Hours

600W (Boulder 200 X 3): 3-6 Hours

800W (Boulder 200 X 4): 3-4 Hours

1200W (Boulder 200 X 6): 3 Hours
PORTS
USB-A port (output): 5V, up to 2.4A (12W max), regulated

USB-C port (output): 5 - 12V, up to 3.0A (18W max), regulated

USB-C PD port (input / output): 5 - 20V, up to 3.0A (60W max), regulated

6mm port (output, 6mm): 12V, up to 10A (120W max), regulated

12V car port (output): 12V, up to 13A (160W max), regulated

12V Power Pole port (output): 12V, up to 30A (360W max), regulated

120V AC Inverter: 120VAC 60Hz, 16.5A (2000W, 3500W surge)

(output, pure sine wave)

230V AC Inverter: 230VAC 50Hz, 8.5A (2000W, 3500W surge)

(output, pure sine wave) (Universal or Type I AC outlets)

Charging port (input, 8mm): 14-50V, up to 10A (120W max)

Power Pole charging port (input): 14-50V, up to 50A (600W max)

Expansion Module port Covered port under the lid. To be used with Goal Zero expansion modules only.
BATTERY DETAILS
Cell chemistry: Li-ion NMC

Pack capacity: 1516Wh (10.8V, 140.4Ah)

Single Cell Equivalent Capacity: 421Ah @ 3.6V

Pack Lithium Content: 126g

Lifecycles: 500 Cycles to 80% capacity (Discharge rate: 1C, Full charge/discharge, Temp: 25C)

Shelf-life: Charge every 3-6 months

Management system: MPPT charge controller
GENERAL
Chainable: No

Weight: 45.64 lbs (20.7 kg)

Dimensions: 15.25 x 10.23 x 10.37 in (38.74 x 25.98 x 34.54 cm)

Operating usage temperature: 32-104 F (0-40 C)

Warranty: 24months
Boulder 100 Solar Panel Briefcase
CHARGE TIMES
Yeti 200X: 2-4 Hours

Yeti 400: 6-12 Hours

Yeti 400 Lithium: 7-14 Hours

Yeti 500X: 6-12 Hours

Yeti 1000 Lithium: 16-32 Hours

Yeti 1400 Lithium: 22-44 Hours

Yeti 1500X: 18-36 Hours

Yeti 3000 Lithium: 36-72 Hours

Yeti 3000X: 36-72 Hours
PORTS
Solar Port (blue, 8mm): 14-22V, up to 7A (100W max)
GENERAL
Product SKU: 32408

Weight: 25.9 lbs (11.7 kg)

Dimensions (folded): 26.75 x 21.75 x 3.75 in (70 x 55.2 x 8.9 cm)

Dimensions (unfolded): 26.75 x 43.5 x 1.75 in (70 x 110.4 x 4.4 cm)

Warranty: 24 Months
RELATED PRODUCTS