Water filtration and storage made easy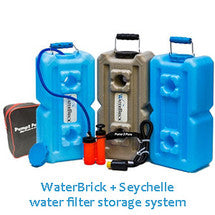 We can't stress enough about how important water storage can be in case of earthquakes, emergency, disasters, or just to keep a safe clean water reserve on hand.  WaterBrick water storage containers has partnered with Seychelle Pump 2 water filter to offer the most powerful 
water filtration plus storage system
 available, the ultimate grab-n-go. Seychelle Pump 2 removes up to 99% of harmful viruses, bacteria pathogens, chemicals and radiologicals.  Now you can have the ability to store clean drinking water just about anywhere very easily. Just collect your unfiltered water in the tan WaterBrick container, use the Seychelle Pump 2 Pure filter system to remove contaminants and filter your clean filtered water into the blue WaterBrick containers. Attach the lids or ventless spigots and you have safe, clean drinking water ready for storage or mobility.  
WaterBrick water storage containers
 are BPA Free and made of food grade safe HDPE that is colored to keep your water safe from extreme temperatures and sunlight.  Now you can collect water anywhere and filter it on demand and store it just about anywhere.  With 
WaterBricks
 easy container stacking system, you can fit twice the amount of water into smaller spaces than with larger and bulkier water tanks and barrels.  WaterBrick come with collapsible handles to make carrying water easy for mobility.  WaterBrick also offers a ventless spigot attachment so you can easily pour water into any container while they're stacked, no need to move your water containers to access your clean drinking water.  With this ideal water combination system, storing and stacking clean water has never been easier!
Collection 2019
Sale 70% Off
Title for image