This town is like thousands that are vulnerable to contaminated water, with no fix in sight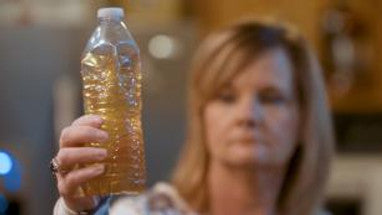 Virginia Tech engineering Professor Marc Edwards watched as water flowed from a garden hose in Enterprise, Louisiana. As he moved a jar to catch a sample, the color changed from clear to brown.
"When mine comes out, it comes out black," Enterprise resident John Tiser said as he watched Edwards work.
Tiser, Enterprise's newly appointed water board president, was giving Edwards a tour around this rural community in central Louisiana, where residents have struggled with water problems. He says his wife drives 20 miles each direction to do laundry in a town with clear water.
Concerned about the potential health effects for his family, including his two daughters, he ran for a seat on the local water board.
What drives him, Tiser said, is "being sure that they're not consuming anything that 20 years from now is going to wind up hurting them."
Years of water system neglect means that the 250-or-so residents there are left with pipes that leak more than 70% of their water into the ground, Tiser said -- all because they can't afford to fix them.
"We're basically putting Band-Aids when we need to go to the ER. That's where we're at," he said.
It's what Edwards calls America's "dirty little secret." He explains it this way: That often times towns like Enterprise are stuck with aging infrastructure that they can't fix, leaving few options for them to deal with complaints about dirty or contaminated water.
The US Environmental Protection Agency says the nation needs $743 billion to fix America's water system.
In his wife's minivan, complete with acid stains on the carpet, Edwards says he makes long drives to small towns that are hurt by dwindling populations, and slowly being forgotten. "It's the perfect vehicle. I couldn't take a rental car, because I can't explain why there's acid burns in the seats of those. But that van's seen a lot of bad water," he said.
Edwards has spent nearly two decades testing water and challenging federal, state, and local governments on water quality. His work helped to reveal high levels of lead in the water in Flint, Michigan.
Collection 2019
Sale 70% Off
Title for image