Katadyn has a water filter for just about any need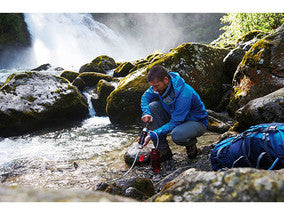 We've recently added the award winning Katadyn water filter product line to our store selection. It's no secret we've always been avid fans of Katadyn water filters and have used them for years.  Katadyn is a globally recognized name that has been offering superior water products and equipment to humanitarian and aid organizations, relief organizations, military and international expeditions worldwide.
Katadyn is the Switzerland-based market leader for portable, personal water treatment systems and products for the outdoor as well as marine industries. Under the guiding principle "Making water drinking water", Katadyn develops and manufactures its portable water filters, water desalinators and chemical disinfectants for camping, trekking or global journeys.
One thing Katadyn products have in common is their high standard of quality, reliability and easy operation. For that reason, many international aid organizations as well as the military rely on the survival aid and life-saving support from Katadyn. Katadyns diverse line of products specialize in self-sufficiency and drinking water supply. Humanitarian aid organizations and the military for years have been regular customers of the Katadyn products.
We, at Prepared Planet, personally use Katadyn water filters and products whenever our travel needs arise. We've used the Katadyn Pocket water filter in the most remote areas of the world, from the Amazon jungle to the African outback, it's the most used and trusted water filter we carry whenever adventure calls.
For outdoor camping and traveling, the Katadyn Drip Gravidyn is our camp favorite. No need to worry about hauling a heavy metal gravity water system, or fear of getting dings. The Gravidyn can take the bumps without showing any wear or tear and delivers on demand. Just fill it with lake, stream or rain water and your camp will have unlimited safe, clean drinking water on tap.
Our favorite water filter for backpacking is the lightweight Katadyn Hiker Pro Microfilter. This bad boy only weighs 11 ounces yet can deliver 1 Qt per minute of clean filtered water. Easy to use and easy to store, the Katadyn Hiker Pro also offers a quick connect fitting so you can have one step filtering directly into your water bottle or reservoir. 
And the ultimate handheld water maker desalinators are the Katadyn Survivor series water makers. If you're an avid sailor, ocean kayaker, or other salt water enthusiast, Katadyn makes two handheld desalinators for your sea water needs; the Katadyn Survivor 06 Portable handheld water desalinator and the Katadyn Survivor 35 portable handheld water desalintor for larger groups. The Katadyn Survivor 06 is the worlds smallest desalinator and can fit into tight spaces if size is an issue. Weighing at only 2.5 lbs., the Katadyn Survivor 06 is the smart choice for ocean going adventurers. This handheld unit pumps at almost .9 liter /hour. The Katadyn Survivor 35 portable desalinator is ideal for larger groups, boating regattas and other ocean going adventures, pumping out at 4.5 liters /hour.
Whatever your water filter needs, Katadyn offers the perfect solutions for your outdoor, adventure or emergency needs. 
Collection 2019
Sale 70% Off
Title for image